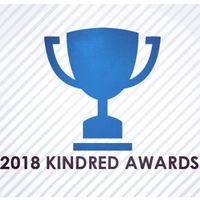 It's award season and we're honored to announce we've been nominated for ... a 2018 Kindred Award! 
The Kindred Awards celebrate independent Christian artists throughout the Mid-Atlantic Region and are held in South Jersey each year.  
Voting is open to the public and available at http://www.sjchristianevents.com/kindred-awards. (We're nominated in the category of 'New Group'). If you're only interested in voting for our category, you can also email your vote to myvoteforthekindredawards@gmail.com. Just include "The Bedouin Fires for 'New Group'" in the body of the email — that's it! 
Voting is open through Sunday, January 14th, so cast your vote before then to help us bring home some hardware!